with Brent Beamer, Dylan Stewart & Dan Martin
Saturday, August 28, 2021
Doors open at 6:00pm
Concert at 7:00pm
Tickets $20 + fees online, $25 night of show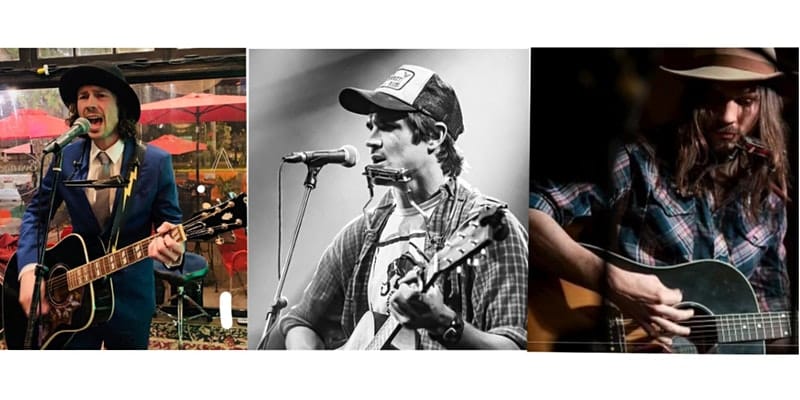 Brent Beamer is a local indie singer-songwriter hailing from Missouri. His music has been influenced by artists ranging all the way from Townes Van Zandt to Kurt Cobain. Stylistically similar to Neil Young, Bob Dylan, Tom Petty, John Prine, Warren Zevon, Guy Clark, Robert Earl Keen, and Cat Stevens too. He is an emerging songwriter, and plays intense heartfelt live shows. His latest album 'Once Upon a Prairie Night' (featuring Nashville based touring musician Kristin Weber on violin and harmony vocals and mixed and mastered by Matt Dougherty) will be released on 3/04/2021. This new album is somewhere along the country/folk/americana musical row.
Dan Martin was born and raised in Tulsa, Oklahoma. He is a singer/songwriter who draws inspiration from the land he is from to the places he has traveled. Since 2014, Martin's travels have taken him from coast to coast, overseas and back again. Fans of Townes Van Zandt, Bob Dylan, and Neil Young will have little trouble compassing theirs ears to the songs of Dan Martin.
Dylan Stewart is a singer/songwriter from the small rural town of Ringling, located in the farthest reaches of southern Oklahoma. Stewart is that of the highway kind. His songs have a strange darkness to them. Sometimes tucked into a happy melody. Religious undertones and outlaw themes; drugs, death, redemption, and fate. Stewart writes of love and loss, death and despair, insightful in his unveiling certain beauty otherwise hidden with in the grim and the gravest of circumstance.
Inimitable presence in both his distinctive vocal characteristics and in his lyrical prowess. Dylan Stewart delivers the forlorn and forgotten tales of a modern day vagabond.
Tickets are $20.00 + fees until 04/3/2021 or $25.00 day-of at the door.
Maximum occupancy for the theater is 250, but we will be limiting ticket sales to 100 to allow for safety and proper social distancing. Concert will be in the theater with auditorium seating.