Hip 2B Huey
A Huey Lewis Tribute
Friday June 11
Doors open at 7:00pm
Concert at 8:00pm
Click here for the food truck schedule.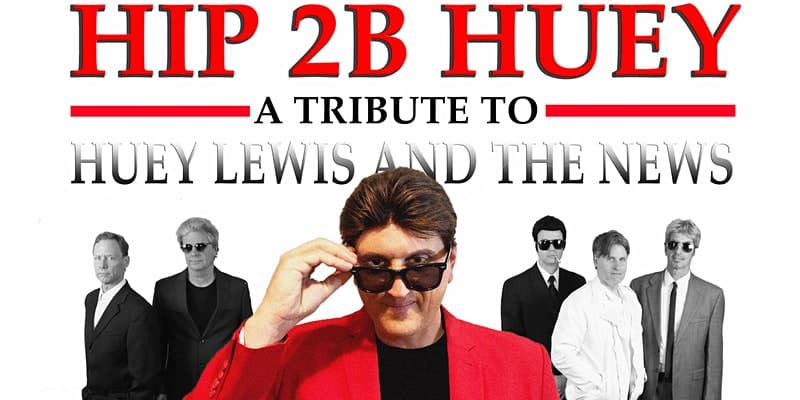 We're gonna go "Back in Time"
at the Aztec Shawnee Theater with Hip 2B Huey!
Join us for an exciting entertainment experience! Come early dressed in your best 80's gear to have your picture taken alongside Doc and Marty McFly and their DeLorean. Feel like you're stepping back in time in the historic and beautifully restored Aztec Shawnee Theater and watch Hip 2b Huey rock the house!
HIP 2B HUEY is KC's newest exciting addition to the tribute band live music scene! Together as H2BH, Lonnie Floyd (Drums), Chris Gallagher (Guitar,Vocals), Aaron Riffel (Bass,Vocals), Pat Riley (Keys,Vocals), Dan David (Sax), and Jeff Zarcone (Lead Vocals) as "Huey," take us on a trip "Back in Time" delivering all the chart topping hits such as The Power of Love, I Want A New Drug, Hip To Be Square, and more. Get ready to dance, jump, and sing along to the songs that made Huey Lewis and the News the music, video, and soundtrack sensation of the 80's and are still popular today!
Tickets are $10 + fees online until the day of the show & $15 at the door the day of the concert.
*Notice of Filming* – This event and show will be photographed and filmed for marketing purposes. By entering the event premises, you consent to interview(s), photography, audio recording, video recording and its/their release, publication, exhibition, or reproduction to be used for news, web casts, promotional purposes, telecasts, advertising, inclusion on websites, social media, or any other purpose by Hip 2B Huey, Aztec Shawnee Theater and their affiliates and representatives. For a copy of our full disclosure or if you have any questions please reach out to Chris.
Maximum capacity for the theater is 270, but we will be limiting ticket sales to 130 to allow for safety and proper social distancing. Concert will be in the theater with auditorium seating. Whether you come to dance or just sit back and listen, Hip 2B Huey are sure to keep you entertained!